Why did you choose to write this particular book? Well I've been completely obsessed with the Jacob Wetterling case since I was eleven years old.  He was an eleven year old boy who was abducted at gunpoint in Minnesota in 1989.  His mother has never lost hope that he is alive and will one day return home.  Around that same time, a TV miniseries called "I Know My First Name Is Stephen" came out and it was about Stephen Stayner, an abducted boy who returned to his family after several years missing.  It was really very eye-opening for me, this idea that some of these kids were alive and out there somewhere. I just kept wondering what happens to them all those years that they're away from their families?  I always wondered what would it be like if you ran into someone and later found out they were a formerly abducted child?  That was the premise of my book, really.  So it grew out of an almost lifelong obsession with missing children and what happens to them if they're actually out there alive somewhere.
What was the hardest part about writing this book? It was definitely all the scenes where Claire is tortured and abused by her abductor.  It was very difficult to write those scenes but I thought it was very important to focus on the violence so that people might understand how hard it is for real life children in her situation to escape or to put down their fear and terror long enough to attempt escape.
Will you write others in this same genre? Yes, I love writing in this genre.  My second novel, a crime thriller called Aberration, which is about a stalker/serial killer has just been released.
Is there a message in your novel that you want readers to grasp? Well now that so many children have been recovered like Elizabeth Smart, Jaycee Dugard, Shawn Hornbeck and just recently the three missing Cleveland women were recovered, I would say the same thing that Shawn Hornbeck said, "If you see something, say something."  Also, try to be sensitive to people who have been recovered from these horrific situations.  The trauma they've been through is beyond anything we can imagine.  Questioning their choices during their captivity is not constructive.
How much of the book is realistic? I think a great deal of it, especially now that this same story has played out in real life a half dozen times since I wrote it.  The similarities to my book and the most recent Cleveland story are quite chilling, actually. When that story broke and the public was given the very few details that authorities are choosing to release at that time, I got easily 100 messages from people who had read my book saying they couldn't believe how eerily similar it was.  I wish this was only the stuff of fiction but unfortunately we live in a world with some very, very sick and depraved people.
Have you included a lot of your life experiences, even friends, in the plot? I actually try not to—not specifically—I do try to include qualities that people have but not specific people.  I would worry too much about legal issues to do that.  But there is one character in Finding Claire Fletcher that at least 3 people have asked if I based her on my mom.  I totally didn't but I think it's funny that people think that.  I will include certain things that are from my own life.  Like Brianna and Claire eating brownies and watching the movie, The Cutting Edge when they're down—my cousin who is also my best friend used to do that.  Brownies are very therapeutic.
How important do you think villains are in a story? In my genre they are essential because they bring the conflict.
What are your goals as a writer? To write stories that people will enjoy.  To constantly improve and always be honing my craft.  To produce the best work that I can.  Every writer wants a bestseller and lots of accolades—and sure I'd love that–but I'm very content with simply pleasing my readers and maybe picking up more along the way.
What books have most influenced your life? Even though I'm a crime writer, the list of books that have most influenced my life is pretty eclectic.  The Scarlet Letter by Hawthorne; Black Boy by Richard Wright; The Fire Next Time by James Baldwin; The Works of Shakespeare; The Old Man and The Sea by Hemingway; The Handmaid's Tale by Atwood; The Death of Innocents by Talan & Firstman; The Sixteen Pleasures by Robert Hellenga; The Sparrow by Mary Doria Russell.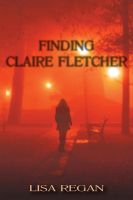 "Readers should drop what they're reading and pick up a copy of Finding Claire Fletcher."  -Gregg Olsen, New York Times bestselling author
"A powerful, emotionally-charged story by a debut author you'll want to keep an eye on!" -J.C. Martin, author of Oracle
Newly divorced and with his career in jeopardy, Detective Connor Parks takes solace in the arms of a beautiful woman he meets at a bar. The next morning, Claire Fletcher is gone, leaving nothing behind but an address and a decade-old mystery. The address leads to the Fletcher family home where Claire's siblings inform Connor that their fifteen-year-old sister was abducted from a city street ten years ago and is presumed dead.
During those ten years, Claire endured the cruel torture and depravity of the man who abducted her. Paralyzed by fear and too ashamed to return to her family, Claire is resigned to her life as Lynn, the identity her abductor forced upon her. Every time she attempts escape or betrays him in the smallest way, someone dies. Even now, her clandestine run-in with Connor Parks may have put his life at risk, as well as the lives of her family.
Connor is convinced that not only is Claire Fletcher alive, but that she is also the woman he met at the bar. Driven to see her again, he begins his own investigation, off the clock and without the police department's consent. He is determined to find her and unravel the mystery of her abduction and odd reemergence. But finding Claire Fletcher proves more dangerous than he anticipates. In fact, it may be deadly.
5-Stars! ". . .heart wrenching, suspense ridden, and eye opening."  -Amy Castellano, Chic Book Chick
5-Stars! "Her characters are strong and believable and they will fill you with emotions that will rock you." -My Cozie Corner Book Reviews
5- Stars! ". . .This was a fantastic novel and I am looking forward to many, many more in the future."  -Alex J. Clatch, Amazon Reviewer
Buy Now @ Amazon & Smashwords
Genre – Psychological Thriller / Crime Fiction
Rating – R
More details about the author
Connect with Lisa Regan on Facebook & Twitter
Website http://www.lisaregan.com/