What is your favorite color? Blue.
What is your favorite food? Pizza. Pepperoni and pineapple.
What's your favorite place in the entire world? Home.
How has your upbringing influenced your writing? I grew up overseas without a TV so books were my refuge. Tolkien blew my mind when I was 10 years old and I've been living with one foot in Middle Earth every since.
Do you recall how your interest in writing originated? I wanted my favorite books to continue so I wrote the next chapter after they ended. I discovered it was even more fun than reading because the images were even stronger and the characters still surprised you by what they did.
When and why did you begin writing? I won a state award in Colorado when I was 12. With that kind of feedback, I was hooked.
How long have you been writing? Since I was a kid. It's cheap therapy.
When did you first know you could be a writer? When I discovered I liked doing it so much that I didn't care if I wrote only for myself. It's just great living in a different world for an hour or two each day. It's great fun.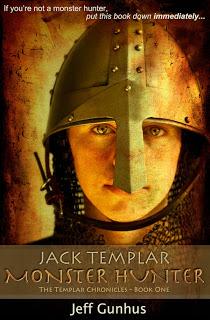 Buy Now @ Amazon
Genre – Middle Grade / YA Fantasy
Rating – PG
More details about the author & the book
Connect with Jeff Gunhus on Facebook & Twitter
Website http://www.jacktemplar.com/